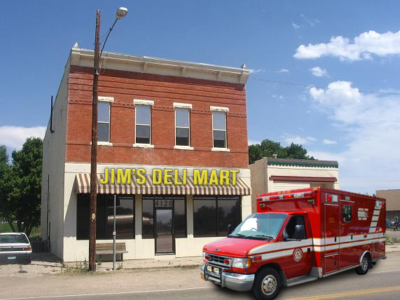 Three people were injured last week as a crowd of shoppers stormed into Jim's Deli Mart, a locally owned grocer in Springfield, Massachusetts, as the store opened its doors for Small Business Saturday.
The people were treated at a nearby hospital and released later that day.
Witnesses said that the victims were trampled as the rabid crowd poured into the store, eager to support the local business. Store owner James Ewen blamed the incident on the store being understaffed.
"We have a pretty small operation here—I run the deli counter and stock shelves, and my two kids work the cash registers," Ewen said. "In hindsight, for a big day like Small Business Saturday, I should have known to bring in my brother Ralph to handle security."
Small Business Saturday is a nationwide campaign launched in 2010 to encourage shoppers to patronize local businesses, held annually on the day after Black Friday. While the holiday may not receive as much media attention as Black Friday, Ewen said the turnout is just as enthusiastic.
"We had customers lined up in tents since midnight waiting to get those first cuts of meat," Ewan said. "When there's that much excitement, accidents happen."
Shoppers said they had no regrets about what happened.
"Hey, if you can't handle the rush of Small Business Saturday, you should stay home," said marketing executive Ellen Gruener, triumphantly carrying three grocery bags. "I'm not about to lose my chance to boost the local economy just because a few people aren't tough enough to fight back."
When asked if there were any specific deals being offered that may have triggered the frenzy, Gruener reported that wasn't the case.
"Small Business Saturday isn't about saving money, it's about helping out the community," she said. "Now, if you'll excuse me, I have to go ice my bruises—I bet the line is already forming outside the Red Cross for Giving Tuesday."