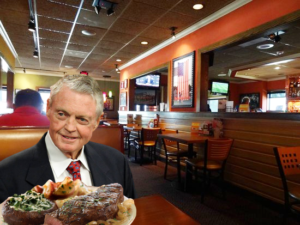 For many Husker fans, the name Tom Osborne will certainly ring a bell. Serving as head coach from 1973 to 1997, Osborne led the Nebraska Cornhuskers football team to 13 conference championships and three national championships. So, here are five things we wished we could've asked him when we saw him that one time at Applebee's, enjoying a nice house sirloin steak with his family.
Are you Tom Osborne? Just to be careful, we would have had to check first. You can never tell a fake.
Do you miss the Huskers? Osborne has spent a quarter of a century coaching those boys in red, so he's bound to have built a heavy relationship. Having established himself as a legend, he had to have felt some kind of feeling of loss having to give his position over. If only he hadn't been chomping down on some fries, we would have inquired about his feelings.
Did you ever steal any footballs? If you've watched football, you know that the school has an abundance of footballs. It's almost too resisting to take one home to add to your collection. Maybe out of curiosity, Osborne managed to nab one before sneaking it off the field. But we'll never know, as he was too busy cleaning up after his grandchildren made a mess of their food.
What have you been up to? 19 years is a long time, and that's how long Osborne has been away from the pride of all Nebraska. He's had to at least picked up some hobbies or something. Maybe scrapbooking? Or legislating? Has he gone anywhere since? Alas, this question will remain unanswered due to his undenying love of mashed potatoes and green beans.
Do you mind if we have some? Damn, those mozzarella sticks look good.