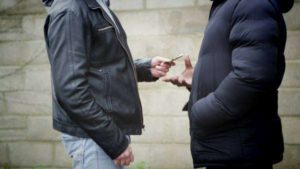 The University of Nebraska-Lincoln is in the midst of a huge political scandal. A beloved ASUN senator has just been caught paying $30 for a single gram of marijuana.
An anonymous source said that the senator contacted him through text asking for that "good good." The source said the senator sent the text with a conglomerate of emojis including the maple leaf, tree and fire emojis.
The DailyER's source said the senator asked to meet in the middle of field on the outskirts of Lincoln. He said the senator came masked in an attempt to conceal his identity. However, the source said that he would recognize "that sexy, gravely tone of voice anywhere." Plus, he was still wearing his beautifully pressed suit along with his famous Nebraska "N" pin.
After looking around nervously, the senator reached out his shaking hand to take the marijuana from our source. He said he gave the senator 1 gram composed almost entirely of stems, seeds and McCormick brand oregano, asking for $30 in return. Without hesitation, he said the senator handed over $30 and said that the weed looked "very, very dank."
Our source said he stuck around for a while and witnessed the senator attempt to roll a joint with a page from the latest issue of the Daily Nebraskan. He said the senator's car, a 2004 Saturn Ion (blue, four door), was completely filled with Daily Nebraskans that he picked up around campus in an attempt to keep others from reading them.
After smoking the joint, the senator would not stop talking about how high he was and how cute Ben Sasse is.
Our source said the senator has bought weed from him three times since this first incident. Each time he adds more oregano, and each time the senator says that it's "the best weed he's ever smoked."