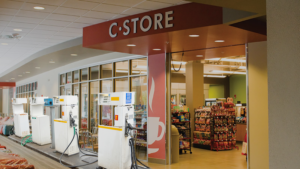 In an effort to increase profitability and drive up revenue, Director of University Housing Sue Gildersleeve has announced plans to put four self-service gas pumps in the hallway outside of the Abel Hall C-Store.
"This revolutionary idea will finally make student housing profitable," Gildersleeve said. "We will finally have a way to make some money without gouging students."
Gildersleeve said that although the fumes may be stifling and the fire risk will be very high, the "opportunity to get a few bucks completely outweighs the risk of literal fiery destruction of our most populous residence hall."
Gildersleeve refused to acknowledge the possibility of motor vehicles driving on the sidewalk and into the building, stating that "we can cross that bridge when we get to it."
Students had mixed feelings about the proposal. Some, such as sophomore English major Judith Rossi, found many flaws in the plan.
"All safety issues aside, traffic flow to Husker Hoagies is already bad enough," Rossi said. "The last thing we need is monstrous gas pumps in the middle of the hall."
Although Rossi was not in favor, freshman business administration major Mike Martin is a big fan.
"Man, it would own to roll through the halls in the old Super Duty, running over some damn snowflake lefty crybabies," Martin said. "Rolling coal right up to the damn diesel pump, baby."
Martin was also excited about the ability to "cruise through the lobby and woof at the honeys. They love the PowerStroke, man."
Rossi, leading a petition drive, said she was "completely furious with those in charge," and that anyone in favor of the measure is "a real idiot."
"I honestly have no idea how this made it so far," she admitted. "It honestly boggles my mind."
Martin was not fazed.
"Man, I've been waxing up the 34s to get ready," he said. "I'm gonna get all of the ladies.