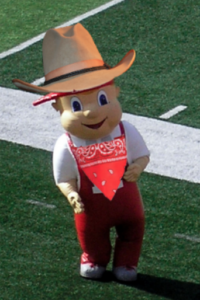 As Halloween draws closer and closer, the decision of what costume to to wear becomes more critical with each passing day. However, some have already tried on their costumes and boy do they look good.
Confirmed by various DailyER gossip reporters, Lil' Red is set to debut a cowboy costume for Halloween and early reviews are positive. Based on famous cowboys like Woody and John Wayne, the costume conveys a tougher side than we're used to seeing in the beloved mascot, while still preserving his boyish charm.
"The whole get-up screams rugged professionalism. Lil' Red is here and you better not mess with him," said DailyER fashion expert Gabbie DeGena. "His boots, vest and hat all give off a swagger that he usually doesn't show during his day job."
While Halloween is still a few days away, early reports are encouraging for the mascot whose profession depends a lot on his image.
Onlookers however reported some trouble when Lil' Red tried to do his iconic "bouncing on his head" trick, which caused his comically large cowboy hat to be crushed and his boot spurs to fall off.
"The bouncing head gimmick did not work well with the costume – very un-cowboy-like," DeGena said. "He'll need to stop that by Halloween for the costume to work."
Tribulations aside, Lil' Red's outfit is a hit and is sure to win big at the annual Huskers Costume Contest this year.