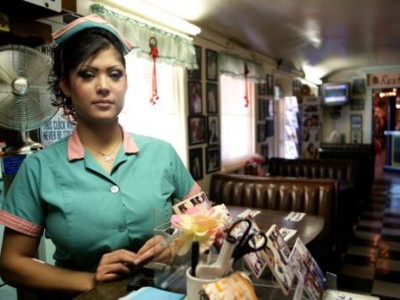 Now this is an "epic win" for those in the service industry fed up with inconsiderate customers!
Last Thursday was a busy night for Lee's Diner, a local restaurant specializing in gourmet burgers and chili. The location had a line out the door, with some customers waiting as long as 30 minutes to be sat.
"Thursday nights get really busy for us," said Lee Hodgeson, the restaurant's owner. "Wait times can get a little long. Last Thursday was especially bad."
Mia Anderson is a server at Lee's Diner who was juggling several tables on that busy Thursday night. One of Anderson's customers had to wait an hour for his food.
In spite of the fact that Anderson had little to no control over the long wait, the customer refused to tip her at the end of his meal, writing a note on his receipt that he was outraged by his poor service.
Most would have just let it drop there. But what Anderson did next was truly amazing.
Instead of just letting the irate customer walk all over her, Anderson voiced her complaints to the host, who was getting paid minimum wage without tips. But she didn't stop there. She continued to complain to the host for at least five more minutes.
"Oh," the host, who earns minimum wage, reportedly said. "That sucks. Doesn't seem fair."
After her lengthy rant, Anderson returned to work and finished out the shift in a poor mood, but otherwise didn't do anything about the irate customer stiffing her. Her Facebook post about the incident has since gone viral, garnering over four "likes" and one comment.
Wow. The DailyER sends its congratulations, Mia. Way to stand up for the little guys!