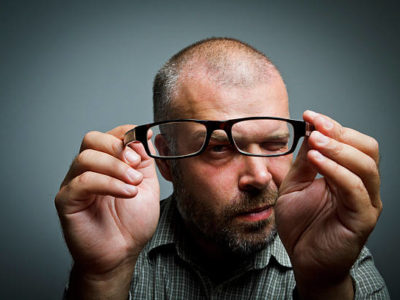 Saying that there was no reason you shouldn't let him, area man Jon Wales begged you to let him try on your glasses, sources reported Tuesday.
"Come on, it'll be so fast," said Wales. "Why wouldn't you?"
According to sources, Wales then reached for your glasses, forcing you to hand them over to him.
"Wow, these are so small," said Wales, the temples of your glasses stretching to a near breaking point. "Oh! You have really bad vision."
Wales, keeping his hands on the sides of your glasses as if he would take them off at any moment, reportedly continued to squint through the lenses for over a minute, swiveling his head in a manner that did not coincide with his usual body movements.
"How do you see through these things?" asked Wales. "Can you even see me right now? How many fingers am I holding up?"
According to those present at the scene, you responded with, "Yes, John. I'm not blind."
"But how many fingers?" inquired Wales. "You totally can't see. I don't think I could tell you how many fingers you were holding up if you asked."
To corroborate Wales' theory, you reportedly held up two fingers, to which Wales widened his eyes as you had never seen him do before.
"If I really cross my eyes, I can tell that it's two fingers," said Wales. "But it's definitely a lot of work."
Sources confirmed that Wales then handed you back your glasses, and, when you put them back onto your face, you noticed that the nose pads were unnaturally warm and covered in a thin layer of face oil.