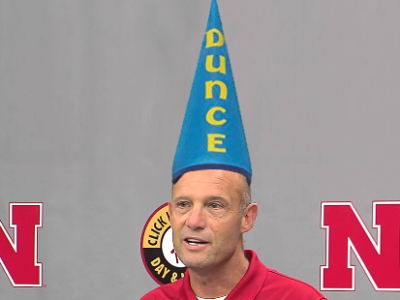 Now that Nebraska head coach Mike Riley is on his way out, some parts of his contract are set to take effect immediately. Most notably, Coach Riley will be forced to wear a dunce hat for the rest of his life after failing to lead Nebraska back to a national title.
The contract stipulation was first conceived when Shawn Eichorst was at the helm of the athletic department. Although a new administration has since taken over, the mentality has remained the same. "We want to make it clear to the current and incoming coaching staff that we expect success here at Nebraska," said current athletic director Bill Moos, in a statement to the media. "There's no reason that a football coach shouldn't be winning a national title within two years of starting his job here. There's no excuse for failure. I didn't come here to go 4-8. I came here to go 12-0, win the Big Ten title, and sweep the College Football Playoff."
Local fan Ryan Urbanski said that firing Riley was definitely the right decision. "I'm glad they canned that old Riley," said Urbanski. "He deserves to wear that dunce hat for all of eternity. Losing to lackluster non-conference teams at home. Getting blown out left and right by beatable Big Ten opponents. Seeing half the crowd leave before the second half starts. Thank God our football program is the only team that does this."
Also part of his contract, Mike Riley is not allowed to come within 500 feet of Memorial Stadium, regardless of whether he coaches a future team Nebraska may play or not. If he does, a specially-made shock collar placed around his neck will go off and send a 1,000-volt shock down his spine.