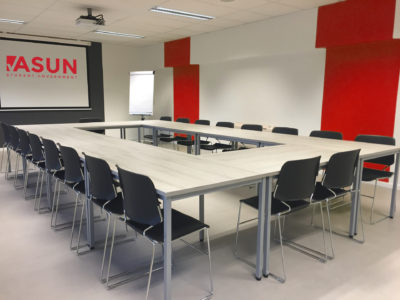 It was Wednesday evening in Centennial A at the Nebraska Union, and junior Blake Scribner was cautiously optimistic.
"I mean, I know this isn't a football game or anything," Scribner said. "But it's important that we give students the option to experience local democracy in action."
The majority of the UNL student body, however, takes a more apathetic line towards its elected government.
At the meeting's commencement, only a handful of the several dozen chairs were filled. Of those, two were guest speakers and the remaining few were half-heartedly taking notes to turn in "for this dumbass political science assignment."
Despite the fact that the ASUN senate is the one mechanism that students at UNL can use to have even the tiniest shred of a say in how the mass of administration and bureaucracy runs the university, most sessions of the ASUN senate are similarly attended. However, Scribner remains optimistic.
"I've got a really good feeling about next week," Scribner said. "We may even need to pull out one or two chairs to handle any overflow."
When asked about the source of his confidence, Scribner went into smug detail about the agenda for the night.
"I mean, I don't wanna give too much away or anything since this is all top level stuff, but let's just say that those empty spots on the Committee for Technological Integration in Arts and Sciences won't be empty for very long," he said. "And we're going to officially declare whether we like or don't like the University's plan to sell alcohol at Volleyball games, too. Let's see those top level administrators ignore that!"
Recent polls show ASUN enjoying high levels of support from 88 percent of the 23 members of the student body who are aware that ASUN is an actual campus organization, and a 56 percent approval rating from students who remember that time the ASUN logo appeared on Big Sean posters when he came to campus.