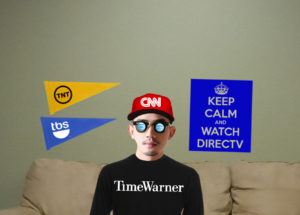 Since AT&T announced their bid to acquire Time Warner, the proposed deal has been met with scrutiny from politicians and analysts alike. For one man, however, the merger of the communications and media giants could be the moment he's been waiting for.
Frank DeSutter, a self-described "superfan" of both AT&T and Time Warner from Lansing, Michigan, said he never imagined that his two favorite corporations would one day unite. Since hearing about the deal on his favorite news network, CNN, DeSutter has been celebrating non-stop.
"This is the greatest month of my life," DeSutter proclaimed while wearing an HBO T-shirt and DirecTV hat. "I've always been passionate about Time Warner's incredible brands, but I also love AT&T's amazing services."
"It's just a dream come true," he added.
DeSutter's devotion to Time Warner began as a child, when his father took him to his first Warner Bros. film, "Dave."
"After I saw that movie, I knew this was the media conglomerate for me," DeSutter said. "I started watching every Time Warner property I could find, and it just grew from there."
As for AT&T, DeSutter said his love for the telecommunications provider started after getting his first mobile phone.
"I was blown away by the network reliability and call quality," he explained. "It made me a fan for life."
Close friends of DeSutter confirmed his obsessive fandom of the companies.
"We went to lunch yesterday, and Frank just could not stop talking about how AT&T would be able to show their customers more 'Big Bang Theory' ads or something," said Lauren Sanders, who has known DeSutter for 11 years. "I'm kind of worried how he would react if the government rejects the deal. I think he'd take it pretty hard."
When asked about the widespread opposition to the merger, DeSutter brushed it off, blaming it on "haters."
The superfan said he plans to get a tattoo, which will read "AT&T + Time Warner: Bros 4 Life," across his chest. The new ink will complement his existing tattoos, which include the AT&T orb on his back, TBS and TNT logos on each leg and a heart on his left bicep containing the words "Hemisphere Project."