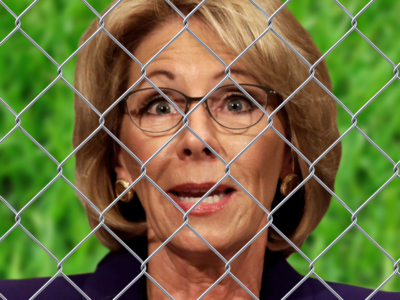 Lincoln residents were in for a treat last Thursday when the traveling Betsy DeVos exhibit passed through the Lincoln Children's Zoo.
Travelers came from as far as Norfolk, Nebraska, to see the mysterious Betsy DeVos, rarely seen outside of her natural habitat of yachts and country clubs.
Betsy was captured earlier this year after she wandered into a public school near Washington, D.C. Students became aware of DeVos after she got caught in a gender neutral bathroom and began screeching. She's been traveling around the country visiting local zoos ever since.
Her visit to the Lincoln Children's Zoo, however, was met with both excitement and hostility. While the zoo was crowded with thousands of eager tourists hoping to catch a glimpse of Betsy, there were also many animal rights protesters outside of the zoo who were advocating for her release back into the wild.
As the limousine carrying Betsy passed by, her security and handlers could be heard yelling at the protesters, calling them "dirty proletarians" and "public school scum."
When Betsy was finally escorted to her enclosure and revealed to the public, reactions were mixed. While some were in awe of the mysterious creature, many were disgusted to see that Betsy looked more like a chewed up piece of gum stuck to the bottom of an underfunded public school's desk, than the elegant creature they had been told they'd see.
Lincoln resident Paul Anderson was initially excited to witness Betsy in person.
"I read 'bout Betsy DeVos coming here in the Lincoln Journal Star and I knew I had to come see her," Anderson told The DailyER. "Got the kids outta school and everything. Turned out to be one of the biggest mistakes of my life. My youngest son, Levi, got too close to Betsy's cage and she nearly killed him when she threw a Crayola 152 pack of crayons at his head, said she stole it from Randolph Elementary."
Since Betsy's visit, Lincoln Children's Zoo has seen a steep decline in their membership.