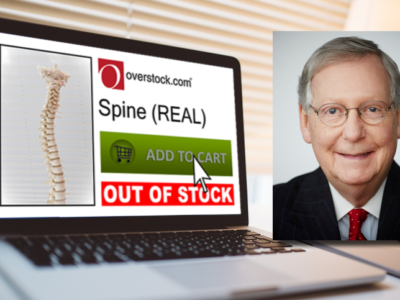 Sources reported Wednesday that Senate Majority Leader Mitch McConnell's spine was still on back order, offering a major blow to the Democrats in their fight against President Trump's agenda.
A spokesperson from McConnell's office spoke to reporters early Thursday morning to offer an explanation and an apology for the incident.
"Despite our best efforts, we were not able to receive Senator McConnell's spine before the daily assault on the programs and services Americans hold dear," said Stephanie Penn, McConnell's current press secretary. "We should have known that the process wouldn't be smooth when, in our desperation, we clicked an Overstock.com advertisement and bought the first spine we saw."
The office's failure to navigate the realm of online shopping may prove detrimental to many Americans who could see resulting cuts in Medicare, Medicaid and Social Security.
After the public outcry that followed Penn's statement, many called on Overstock.com to perform a rush shipment. In response, a spokesperson for the company redirected the blame to McConnell's staff.
"Overstock.com prides itself on quality products and exemplary customer service. That being said, we do not advise purchasing vital human body parts on our site, as we do not sell them, and anything that seems to do so is likely a scam," said communications director Brett Nelson. "We would suggest, perhaps, Amazon or eBay."
Overstock.com's statement was devastating to Democrats that were hoping for a quick fix to the Senate majority leader's condition, as an entirely new purchase would likely take several weeks in which significant legislation could be passed with the help of McConnell's spineless leadership. To make matters worse, sources confirmed that nobody on the senator's staff owns an Amazon Prime account.