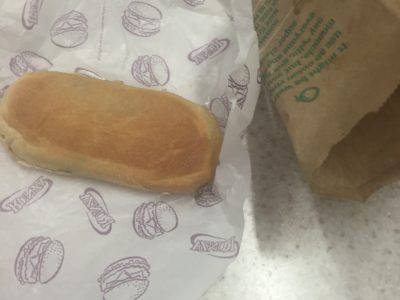 Tragedy struck this week when 55 Lincoln natives were killed by counterfeit Runzas being sold discreetly across the University of Nebraska-Lincoln campus.
Due to recent budget cuts to the University of Nebraska, UNL was forced to raise the price of Runzas to a record-high $7. Several riots broke out after the news was announced, with multiple injuries resulting.
Monday morning, dozens of UNL students were found dead after a faulty batch from the Runzaniacs.
"We are taking this matter seriously and are looking into the situation," said University Police Department Chief Dan Stevenson.
As the price continued to rise–up to 50 cents per week–many students became desperate for their fix. A mysterious group known as the Runzaniatics began selling bootleg Runzas on campus to hungry students who wanted to save a buck.
"Yeah, the price became too much for me to bear, so I shelled out some bucks and bought some from the Runzaniacs," freshman Brock Harris said. "It wasn't too difficult; I just left some cash inside a tree hole and picked the Runza up later that day."
The Runzaniacs used tree holes and other discrete locations to make their deliveries to Harris and other groups across campus.
The counterfeit Runzas were noticeably different from the official Runzas, often weighing more and made of a thinner bread. They also produced an odd smell, which some students likened to metal.
"But I mean, they were fine if you closed your nose and ate it real fast," junior Ashley Williams said.
As the weeks went on and the price of Runzas went up, the Runzaniacs had a large portion of the student body under their belt. The quality in their Runzas started to decline at this point.
"This one time, I found a human finger in mine," sophomore Matt McDonald said. "I just picked it out and tried to ignore it. Did make me sorta curious though."
The Runzas, stapled together and filled with a green, sticky substance, were found near their bodies.
"It was horrifying," UNLPD officer Clark Moore said. "I just hope we bring these psychopaths to justice."
UNL faculty will meet this week to decide whether or not to label the group a terrorist organization.