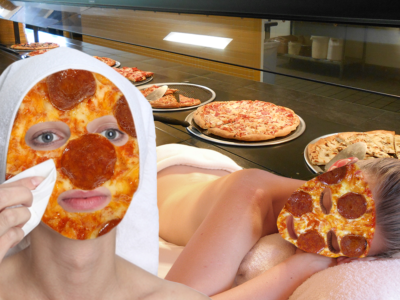 When it comes to top-notch gourmet food and a fun and welcoming family atmosphere, CiCi's Pizza has always been the place to be. Whether you're looking for something made out of bread or something else made out of bread, CiCi's can always be counted on to deliver* the goods.
People flock from every corner of the state to visit Nebraska's only, sacred CiCi's Pizza location, right here in scenic Lincoln. And while CiCi's Lincoln location is already considered the best in its class, coming in with an almost 2.9 star average on Yelp, it just got a huge upgrade.
Following a year of record losses, the CiCi's corporation has decided to try out an experimental re-brand at a few select stores, including CiCi's Lincoln. The Pizza chain will soon commence renovations aimed to turn the current location into a restaurant AND spa.
Omaha resident Carol LeeAnn Sherwin said that she has never been so excited for a restaurant reopening in her life.
"I absolutely love CiCi's," said Sherwin. "It's always been a place where I come to relax. Now that it's going to be a spa too, I can't wait to feel complete bliss. I'm excited to open my pores and then immediately clog them."
CiCi's 'Za & Spa will feature many new amenities including a steaming grease bath, relaxing massages conveniently on top of your table and rejuvenating cheese facial masks. The renovated restaurant will also feature a full room sauna.
In light of the re-branding efforts, CiCi's owner "Papa" John CiCi wants to assure his loyal customers that the food will not change.
"Despite the hot, humid air of the sauna, the food will still be cold, as always," CiCi told The DailyER. "We'll never change that, I promise you."
*CiCi's does NOT deliver