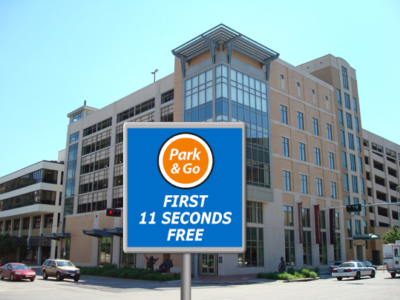 Good news has finally arrived for downtown denizens in Lincoln: the city is now offering free parking in all of its garages for the first 11 seconds.
"We just wanted a way to thank Lincolnites for making this a wonderful community to live in," said city planner Mervin Descartes. "We thought to ourselves, 'hey, 11 seconds to shop, dine and panhandle enough money for the rest of your parking fee is the least we can do."
The new policy kicked in on Tuesday, and hoards of city-slickers were seen taking advantage of the lucrative deal. Some could be seen frantically scaling down multiple stories of garages with ropes attached to grappling hooks, while others took the less-conventional route of descending staircases with longboards.
"I only smashed my head into the wall 4 or 5 times," said staircase scaler Toby Crenshaw. "I think I'm okay for the most part, although I…wait, what were we talking about?"
One woman seemingly outdid the competition by bringing her own paraglider, which allowed her to smoothly sail through the glass windows of a burrito stop and into the kitchen area.
"I love what the city's doing; I didn't even have to wait in line!" she said. Some attempted to reach their destination in a timely manner via bungee cord, only to hilariously bounce back up before being able to grab the door handle.
While some are concerned that 11 seconds is not an adequate time slot for a quick dine-and-dash or stealing merchandise without anyone noticing, at least one individual has made the most of the brief allotment. Local storm drain enthusiast Ross Fulger successfully tipped his hat, said "hello" curtly to a passing stranger, and made it back to his vehicle in 8.6 seconds.