last updated 11/13/2015
Have a submission? Email it and your name to the.dailyer.unl@gmail.com
Personals
W4M
Me: Student, 20, brown hair, carrying 2 books in Love Library.
You: Male, 20s, blonde, hoverboard.
I saw you ride your hoverboard down the stairs into the lobby. As you zoomed around the corner, I knew it was already too late– for your body and for my heart. With every crash as you fell, I could feel my heart beat more strongly. Every scream became a beautiful love song that only I can hear. When the ambulances took you away, I cried– not because I was afraid of all the blood, but because I feared I would never see you again. Be mine?
---
M4W
I yelled at you on the street the other day. You were wearing that shirt, you know, the V-neck? I couldn't even control myself, I just had to yell and let you know that you have a "NICE SET OF KNOCKERS!" out of my pick-up. Since my usual hollerin' doesn't always seem to work with the ladies, I was hoping that this ad in a paper as respectable as The DailyER might. If you want a man that'll yell how nice you're lookin' every time you see me, and will also yell at every other woman in the area, let me know!
---
ISO
Someone to kiss after the Huskers score a winning touchdown. Maybe it was the runza breath, but the guy I kissed Saturday looked upset.
---
W4Cat
I can barely care for myself; I don't think I can care for a cat, like, on a day-to-day basis. But I still have room in my heart for some sort of affection. Maybe like a friend with a pet? I'm afraid if I just keep petting the alley cat outside my house I'll get fleas.
---
M4W
I have a lot of money.
---
M4M
Looking for someone to take my trash cans to the curb and kiss my plump cheeks with a pair of silky smooth, slightly moist lips
---
Missed Connection
Me: Student. Backpack. Jeans.
You: Probably older, glasses, white hair, suit, little red "N" lapel pin. I saw you in Canfield, in what was probably your office. I think it said "Chancellor" on the door. Anyway, I think you're a real cutie. Lunch sometime? We can get the union's finest cuisine: Subway Pizza Express.
---
M4W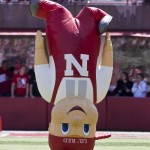 ISO a woman for pudgy, inflatable but loveable man. Must love the Huskers, being at the center of attention at football games and other UNL events and high-fives. Dancing-on-your-head ability a plus. Must be okay with spending plenty of time with my buddy, Herbie. Are you interested? Come give me a hug at the next game! 
---
Missed Connection:
You: Cute brunette with a Veronica Mars tattoo on your cheek with friend at Chick-fil-A scarfing down six chicken sandwiches at once.
Me: Too shy to say hello. If you think this is you, please come over to my house and watch my dogs for a couple days while I go to the National BBQ Convention in KC next weekend
---
M4A
Looking for committed, long-lasting relationship or friendship with literally anyone willing to talk to me. Seriously, anyone at all. I don't have anything going on any night this week. I'll buy. I'm into pretty much everything, so you pick what we do! Please.
---
ISO
A gosh-darn beer after that Michigan State win! Just joshing you, Husker Nation. It's me, Coach Riley! Hope you're all having a wonderful week, scholars!
---
M4EpiPen
HELP  I'M COVERED IN BEEEEEEEEES