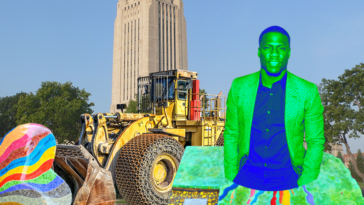 Nebraska By Heart was a public art project sponsored by Lead Up and the Sadie Dog Fund as a way to celebrate the Nebraska Sesquicentennial. The hearts, which each featured unique designs and were placed around the city of Lincoln, were meant to display the spirit of the state of Nebraska.
Following the state's sesquicentennial celebration, an auction of the hearts was held on October 5th, and proceeds were split between the artists and the sponsoring organizations. Yet, the absence of the statues became more prominent than initially intended, and soon, the public began calling for a replacement art project.
In response to the demands of Lincoln citizens, Mayor Chris Beutler announced a new public art project titled Nebraska By Hart.
"The concept of Nebraska by Hart is similar to Nebraska by Heart," said Mayor Beutler in a press conference on Tuesday morning. "We intend to erect statues of popular comedian Kevin Hart at various points throughout the city of Lincoln as a way to represent the spirit of Nebraska and its citizens."
Beutler outlined the details of the plan, which would allot two million dollars of the state budget to fund the creation of 89 Kevin Hart statues, calling it "a victory for the state of Nebraska," and "a sure-fire tourist attraction."
Beutler's proposal was met with little resistance from city employees, who expressed their excitement for the Kevin Hart statues, which many believe will act as an economic support system for the city.
"Nothing says 'Nebraska' more than 'Kevin Hart,'" said Jeff Monson, an urban planner for the city of Lincoln. "And nothing is more at the heart of Nebraska than Nebraska By Hart."