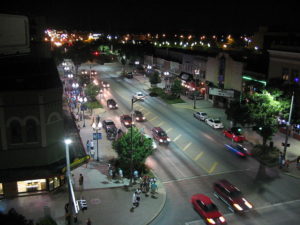 Nebraska wide receivers coach Keith Williams is known for his on field acumen, his ability to recruit and his intense, motivational personality.
Some call Williams a wide receiving genius.  
"He has really played a key role in getting me up to speed in the NCAA," sophomore wideout Ian Martell said. "He just knows every little detail that goes into being a next-level receiver."
Head coach Mike Riley commended Williams' ability to work with his players, as well as his ability to be involved with the play calling process.
"Keith is great at helping the offensive coordinator call plays that will put his receivers in great position," Riley said. "He can get his people to move through traffic in ways that I've never seen before."
One thing that Williams cannot call, however, is an Uber.
The popular ride-sharing service is a hit among people that want the convenience of a cab without the cost. Employing hundreds of drivers in Lincoln alone, the relatively new service is making an impact on the city and its vibrant downtown nightlife scene.
"People leaving the bars is our biggest market," Uber driver Jonathan Sierra said. "We make a killing Thursday through Saturday nights."
When asked if he would give a ride to someone involved with the Husker football program, Sierra was enthusiastic.
"I would love to help the fellas out," Sierra said. "They work so hard to win, those players and coaches, and they deserve to have a good time and get home without incident!"
Coach Riley also chimed in on the subject.
"That Keith, he sure loves his apps," Riley said. "It sure is hard to keep him off of Twitter and Instagram! He just doesn't quite get this 'Uber' craze, and I'm right there with him."
Riley went on to say that Uber "might just be a little tough" for Williams.
At press time, it has been confirmed that Williams does in fact know how to make calls on his phone. However, he cannot practice calling Ubers or cabs due to outside commitments.