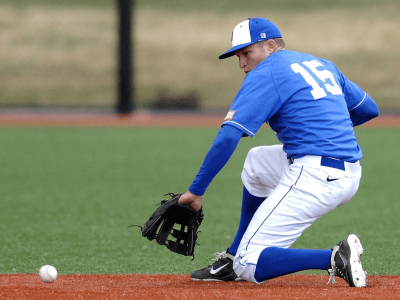 With baseball season approaching, one player is experiencing a greater appreciation of the game he already loved.
Senior Bert Sizemore has been the starting shortstop of the Peru State Bobcats for three years and was named captain of the team this year. While this is more than likely to be his last season of competitive sport, because he is not very good at it, Sizemore has accepted his fate and is embracing his last go at the sport he loves.
Although the odds of him playing for a major league team are as good as getting struck by lightning while fielding his position, Sizemore still believes he could play professionally if he was just better at baseball.
"I could have made pro, I could have had my name chanted by thousands," Sizemore pondered. "But you know, I'm not really good at hitting for power, running, fielding… I was the worst defender on my team, kind of funny they put me at shortstop."
Optimism is an important attribute to have, but many have said this level of optimism has hindered Sizemore's judgment as more players and coaches have given credence to Sizemore's lack of baseball IQ.
"Bert is a good kid with a lot of drive, but he sucks at baseball," said hitting coach Dave Martinez. "He may have been the best player on our team, but that not really an accomplishment when you're the worst team in the Midwest sun-dried liberal arts league."
Coach Martinez is currently looking for work.
"I'm an avid fan of chewing gum, is it my number one hobby and there's a lot of that in baseball," said left fielder Davy Stewart. "I may not have been good at baseball, but man I was the MVP of gum-chewing that season."
The hopes of ever reaching the dream of professional baseball are over for Sizemore. However, the ball player has other dreams of his own.
"My second dream as a child was to work in an office one day, so I guess I'll try that now."