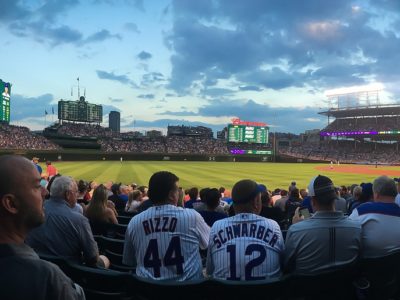 History is about to repeat itself for a team that defied all odds last year in the World Series. The Chicago Cubs did not win a World Series for 108 straight seasons until they took home the 2016 championship over the Cleveland Indians. Now as the 2017 playoffs are nearing, the Chicago Cubs are making adjustments to begin their quest for their next 108-year championship drought.
"This team has the potential to suck really bad again," said Cubs manager Joe Maddon. "I think we have what it takes to consistently compete for the top draft pick every year for the distant future. Mediocrity, here we come!"
Postseason play for the Chicago Cubs begins Friday, October 6th, as the team takes on the Washington Nationals. Game 3 of the National League Divisional Series at Wrigley Field has already sold out. "I'm hoping we can go back-to-back," said Cubs superfan Denny Curtis. "It's quite a feat to not win a championship for 108 years. I'm excited to boo this team off the field every year in the future!" Cubs owner Thomas Ricketts said Steve Bartman will be in attendance for Game 3, just in case the team needs fan interference to cost them the game.
Maddon said he will be making moves before the team's divisional series matchup against the Washington Nationals kicks off this week. "We've cleared with the MLB commissioner a special trade for Boston Red Sox left-handed pitcher David Price," stated Maddon, citing Price's 0-9 record in past playoff starts. "This is our guy for the future to make sure we don't win another playoff series for a long time."
Maddon also announced the team has cut Jake Arrieta and Jon Lester from the team. "I'm really happy with the direction the organization is moving in," said Arrieta. "I just hope my kids never see another Cubs World Series championship in their lifetimes."