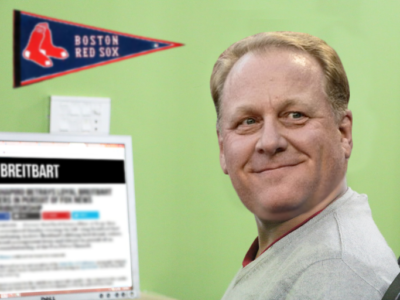 Curt Schilling is a man of many talents. As a three-time World Series champion with the Boston Red Sox and Arizona Diamondbacks and racist commentator for ESPN, Schilling has never been afraid of the limelight. His new career path as a politician and clickbaiter follows this trend.
Schilling, who plans to run against Elizabeth Warren for a senate seat in Massachusetts, has also recently been hired by Breitbart as a commentator and writer for the conservative website.
In his baseball career, Schilling was known as a gutsy, talented pitcher whose philosophy was to strike out batters and limit hits. Schilling has brought that mantra to his new career; in his first Breitbart article, Schilling pitched the first no-clicker in website history.
The article, "Why I will beat Senator Warren in 2018!!" was posted last week on November 1 and has since garnered no interest on any of Breitbart social media pages. On its Facebook page, the article recorded an unprecedented zero reactions or comments, a feat never accomplished by any writer or pitcher.
Schilling has had many memorable moments in his career, including the bloody sock game, but pitching this no-clicker might be his most impressive accomplishment yet.
"I was able to pound the strike zone and get good movement on my opinions and hot takes. It also helps to trust your defense as well," Schilling said about his strategy toward the article. "It's very special to know that I'm alone in history, that no one gives a shit about what I have to say."
Breitbart Editor-in-Chief Alex Marlow is proud of Schilling's achievement but acknowledges that it's different than what the company is looking for.
"Curt's a special guy. Through his baseball career he'd never pitched a no-hitter, so I hope this no-clicker makes up for that," Marlow said. "However, I might have to sit down with him and explain that we're in the business of attracting attention and not avoiding it altogether."
Although Breitbart is not as pleased with Schilling's debut, Schilling admitted that he misunderstood what's important in the content world and will work harder for the company.  
"While I am proud of my accomplishment, I realized that my actions are harmful to the company and I will improve going forward," Schilling said. "I promise to only focus on racist thinkpieces and why modern feminism is killing us all."