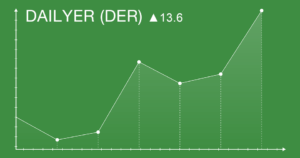 After securing its $0.14 cent per student budget for the 2017-2018 school year, The DailyER, the University of Nebraska-Lincoln's satire publication, is aiming for bigger goals.
Starting in the fall school year, The DailyER will be going public to possible investors to buy and sell exclusive DailyER stock. Stock options are estimated to open around $0.01 per share, providing the opportunity to partake in the slow financial growth of the paper.
When asked why now was the time for The DailyER to go public, editor and self-described CEO, Andrew Preston, made it clear that profit growth and pleasing his bosses were the main reasons.
"We just got out of the black, like, a couple months ago and the editorial board thought that would never happen," Preston said. "The $5,000 helps with printing and legal issues, so stock options are just a way for me to get rich fast."
Dan Schaiti, the main board member of The DailyER, has been supervising the paper since its creation in 2008, and while growth is always good, Schaiti is concerned that going public could put the company in jeopardy.
"The success and status of The DailyER is what makes the paper stand out, but stocks might be too soon for such a young organization," Schaiti said. "There's few revenue streams that would please holders; the only source of profits is the Bourbon Theatre ad and Runza money."
With confidence and doubt coming from both sides, The DailyER will see some more competition and responsibility in fall 2017, and The DailyER's liquidator Phil Malzer (no relation), is sure that going public will make his job and others more important in the new university climate.
"As the liquidator, now there's really not much to do," Malzer said. "With only one advertiser and writers who are too cheap to fire, the ship basically runs itself. In the fall, however, jobs will get serious. No more missing deadlines or not being funny, we don't have time for that anymore. We have to please to our investor(s)."