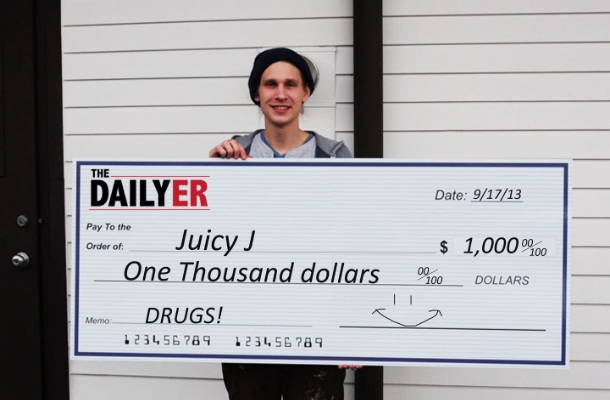 When Alex Wunrow was handed the reins of The Dailyer he saw an empty canvas.
During the six months the senior advertising major has worn the pants of the newspaper he has worked kind-of-sort-of to rebrand the prestigious-ish student publication. After dropping "Nebraskan" from the title and redesigning the formerly piss-poor website, The Dailyer has truly seen a thorough revitalization.
The most recent change, one in which the paper finally fucking pays its goddamn writers, shocked even veteran members.
"When I first started writing for the then Dailyer Nebraskan my only goal was to get laid," said 5th-year senior Paul Foster. "When that plan fell apart, I selfishly used the Dailyer to boost my own ego while simultaneously disappointing my father. I never dreamed I'd actually get paid for this smut."
Foster, a self-proclaimed white suburbanite, has little use for the paychecks, as his parents cover his monthly expenses. The art history major has instead found other uses for the newly earned disposable income.
"The paychecks have allowed me to do a bit of experimenting," Foster said. "I've met a few new friends who know some people."
Since the delivery of the paychecks two weeks ago local drug dealer Jesse Redman has seen a spike in sales.
"Times are tough in this down economy. Supply and demand have fallen out of equilibrium and it's been difficult for small businesses to stay afloat," Redman said. "It's Bush's fault, really. So it's been nice to move a few extra dime bags every other Tuesday."
Wunrow, aware of what appears to be a direct correlation between the paper's newfound capacity and small-time pot dealers' success, brushed the dirt off his shoulders with casual grace.
"The group morale is at an all time high. It's surprising how far a few bucks can go," Wunrow said. "I'm really hoping the paychecks will lead to better content and less reliance on dick jokes."