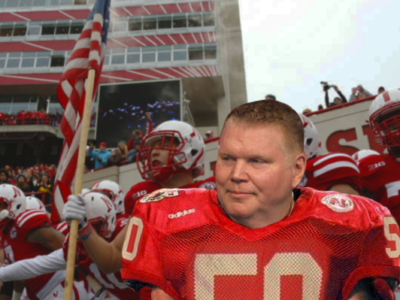 Legendary Nebraska center, Dave Rimington, was recently selected for the interim athletic director position and immediately began taking a hands-on approach to turn around the football program. This past week during the Nebraska vs. Ohio State game, Husker nation was astonished to see a sight that has not been witnessed since the early eighties — Dave Rimington suited up in full pads. As Rimington led the team out during the tunnel walk, most fans figured it was simply a nice gesture to welcome him back to Memorial Stadium; boy, were they wrong.
Rimington, standing on the sidelines, looked a little out of place wearing his 1983 mesh crop-top jersey, but when the time came for the first offensive drive, gasps swept through the stadium. Low and behold, old number 50 trotted out to join the huddle. Any doubts that Nebraska fans had regarding the 57-year-old Rimington facing college athletes in their prime were hushed after the first drive. Rimington took over on the offensive line for the whole game. As longtime Husker fan Rob Turner put it, "It was like taking a stroll down memory lane. Seeing big ole Dave out there leading the push for the Huskers." To put it nicely, Rimington absolutely desecrated the Ohio State Buckeyes' defensive line for four quarters. Despite the 56-14 loss for the Huskers, Rimington proved that he's still got it.
After the game, reporters caught up with Rimington. Rimington immediately shot down all questions regarding his NCAA eligibility; however, he did talk to reporters about goals he set as interim athletic director.
"One achievable goal is to get rid of all sports besides football. This way UNL could allocate more money into football recruiting and winning championships. After all, I think they have intramurals for all those other sports."
Rimington was also asked about the future of Mike Riley as football coach. Rimington answered, "Mike is a really nice guy, but we don't see eye to eye on how to coach a football team. That's one of the reasons I decided to take over my position. As interim AD, I could technically fire Mike at any time, so it's nice knowing that I have seized total control of the football team."
While Rimington was certainly enthusiastic about his bold plans for the future of Husker football, the university administration apparently did not share his vision. The following day, Chancellor Ronnie Green announced the hiring of a new athletic director, Bill Moos. Rimington could not be reached for comment, but sources said he was overheard pleading with Moos to let him stay on the team, or at least take over the head coaching job.