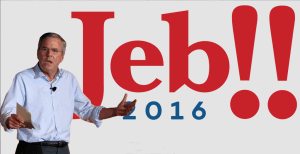 After weeks of staving off criticisms that he is running a terminal campaign, former Florida Governor Jeb Bush has unveiled a vibrant new logo to restore donor confidence.
"It's like my old logo, but there's another exclamation point," Bush explained. "Two exclamation points, baby. I can't even put into words how excited I am to be Jeb!!"
The change, which was supposed to show Bush's passion, has done little to halt the establishment's new rising star, former protege Senator Marco Rubio (R-FL).
"Jeb Bush is a good man and a friend. But you can't hoodwink honest Americans by adding more punctuation to your logo," Rubio said at a Tallahassee "BBQ the Vote" event. "Wanna show your commitment? Make your font bigger, dummy."
The reaction has not been entirely negative. Florida resident Gloria Havens said that the logo has helped her almost make up her mind on who she will vote for in the Republican primary.
"I'm hard of hearing, so when I saw the old 'Jeb!' I was like 'ehhh, speak up hun,'" Havens said. "But this new 'Jeb!!' has such an ooomph! It's honestly been rattling in my brain for days."
Clarifying that his campaign reforms will not stop with just a louder looking logo, all campaign signs will now feature a button that interested voters can press to play a .flac file of Bush screaming "Ahhhhhhhhhhhhhhhhhhhhhhh!"