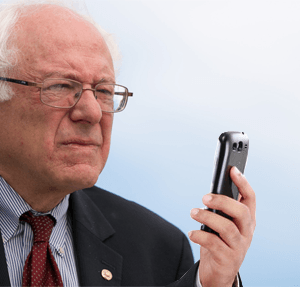 It's no secret that Bernie Sanders enjoys immense popularity among young voters. His blunt, no nonsense views on economic policy and tuition reform have drawn attention and support from the millennial demographic.
However, in a recent interview Sanders expressed his hope that the surge in support will finally convince his grandson to give him a call.
Sanders' grandson, apathetic 26-year-old Chad Sanders, has reportedly not had contact with his grandfather since Thanksgiving last year at Sanders' home in Vermont.
Despite repeated pleas from his mother to "give grandpa Bernie a call this weekend; he gets so lonely on the campaign trail," Chad has repeatedly ignored his grandfather, one of the two frontrunners for the Democratic nomination, in favor of sleeping in until early afternoon and playing "Call of Duty."
When contacted for an explanation, Chad defended his actions as "no big deal" because "I just get really slammed at work."
"Like, I would call him if I had the time, but I've got a lot of stuff going on. My band is about to get discovered soon and I wanna be available whenever a record label contacts me. This whole Best Buy job is only a temporary thing," Chad said in an interview in his somewhat grungy living room.
He continued to air his grievances against his senator grandfather while fiddling around with his Xbox controller.
"He's really into pop punk, which I get, but every time he tries to talk to me he goes on and on about 'the good old days' and 'income disparity between the upper and middle classes.' It's boring as hell. And he totally fired me from his campaign staff just because I sent pictures of my junk to six or seven people from his Twitter page. It's called establishing a brand, old man, ever heard of it?"
When asked if he had a message for his grandfather, Chad asked Senator Sanders to send him $40 for a new set of rims for his Nissan.