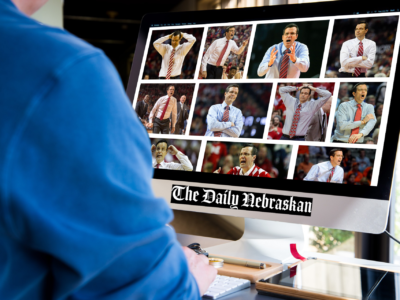 Following the Nebraska men's basketball team's loss to Wisconsin, Daily Nebraskan sports editor Brent Nielsen performed a familiar ritual: opening up a massive, 10-gigabyte folder on his computer of photographs depicting a frustrated Tim Miles.
After scrolling through hundreds of high-resolution photos of the Husker head coach, Nielsen settled on one of an agitated Miles crossing his arms in disbelief and dragged it onto the page.
"We use pretty much the same picture of Coach Miles after every game," Nielsen explained. "So we figured, why not streamline the process?"
The database, consisting of every photo of the bewildered coach taken by DN staff since 2012, is divided into multiple categories, including "hands on hips," "hands on head," "screaming" and "quiet resignation."
Furthermore, the photos are tagged according to Miles' various shirt-and-tie combos.
"Understanding the context of each picture is so important," Nielsen said. "Is he mad at a player, mad at a referee or just mad at life itself?"
What began as a simple time-saving measure has grown into a major project for Nielsen and the DN. The newspaper recently had to upgrade its data storage to accommodate the rapidly growing number of photos.
"Every game, I get at least 20 or 30 shots of Tim just totally freaking out," said DN photographer Matthew Clare. "I'm really not sure why we keep taking more of these."
Other photographers on the staff shared Clare's sentiment. However, Nielsen said he has big plans for the database.
"The DN is going to be publishing a coffee table book this fall," he said excitedly. "300 pages of full-color photos. It's called 'Miles Goes Mad.'"
Nielsen said the DN plans to sell the book at the University Bookstore and the Pinnacle Bank Arena gift shop, and this could be just the beginning.
Sources inside the DN offices reported that a similar effort is already underway to catalog every photo of head football coach Mike Riley smiling.