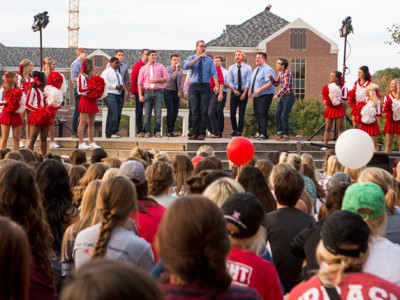 by the Bathtub Dogs
Okay, time to set the record straight.
We're the Bathtub Dogs. Ever heard of us? We're only the highest-requested a capella group at this fine establishment known as the University of Nebraska–Lincoln. For those of you too lame to know, a capella isn't like that bullshit movie "Pitch Perfect" or "Pitch Perfect 2." It's the real deal. You know they used auto-tune right? It doesn't even sound like singing. God, we hate those movies. They're not funny, folks. And we're not all douchey like Adam DeVine, okay? We take ourselves very seriously.
We're nice. We're clean. We're weird and wacky and goofy, but we also have pride. Pride that gets hurt when we tell people who we are and they say "Huh?" or "What?" or "Hmm?" We just want to let people know a couple things: We exist. We are here. At UNL. And we can sing. We can sing together and make booping noises with our mouths like they're instruments. We can do this for extended periods of time while we stretch out our arms and raise our eyebrows. Occasionally we'll look at each other with a jolly twinkle in our eyes as we continue our 10-minute rendition of "The Longest Time."
We also got the goods. Tommy Newell–he's our powerhouse. He can hit a high E. High F# on a good day. He's had perfect pitch from the age of 3 and he isn't afraid to use it. His diaphragm is as swole as the biceps of a bodybuilder, and he's only getting stronger. His voice is as smooth as butter, with half the calories. And he's only a sophomore, bless his soul. We still got two or three more years with this bad boy.
So just remember the name. The next time your frat's holding a front-yard party and you're tired of playing lame music while you toss the ol' pigskin around, the next time you're holding a job fair and need some crooning to entice your lazy students to get a job, when the Union pianist has mysteriously vanished and there is no one to fill your ears with soft, sweet tunes while you pound away at your chemistry homework. When Boots & Cats apparently "doesn't have enough time" to sing at your St. Patrick's Day party. Remember the name. Bathroom Dogs. Shit, wait. Bathtub Dogs. Got it?
Editor's note: This article originally ran as part of the Daily Nebraskan and DailyER joint satirical issue, the HalfasskanER.