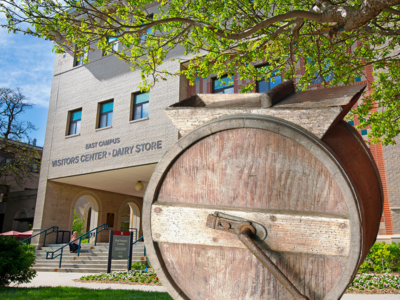 With tuition increases happening for the first time in five years, the loss of more than 100 jobs, and a budget that cannot take on much more money, the University of Nebraska system is in dire straits. NU President Hank Bounds has warned departments against excessive spending on any trivial projects, but interpretations of "trivial" seem to vary.
Case in point: East Campus, the little brother in the University of Nebraska-Lincoln family, announced an expansion to their curriculum that will enhance the learning experience for every student. Starting next school year, East Campus will open their new, old-fashioned butter churning department in the dairy school. The subject will be offered as a major or minor and is set to cost the school about $15 million in expenses before it turns profitability.
Dr. Joseph Baumertman, graduate chair of the Food Science and Technology Department administration, explained his decision to put millions of dollars into a technique that has been archaic for some time now.
"We are running out of ideas to teach our students in the program. Once you get past milking the cow and herding the sheep, the syllabus doesn't offer much else," Baumertman explained. "The ability to add a skill like butter churning will broaden our department and give our students the valuable skill of old-fashioned churning, and the rigorous process of turning milk into butter."
When Baumertman was pressed on the issue of budget restrictions and whether the cost was too exorbitant, he defended his decision by comparing it to UNL's other financial moves.
"Why should I be criticized for investing in my department when [former UNL Chancellor Harvey] Perlman threw tens of millions of dollars into a film and new media department that hasn't been profitable since day one?" Baumertman accused without merit. "And what about the College of Business building? How much money was wasted on that monstrosity just to please the business department?"
Everyone agreed on that point.
While it's still to be determined whether the butter churning department will be a success, Baumertman only has to look to the past to see the rich history the butter churn has had on our culture. If, however, he looks too recently, he will see how the churning of butter has become a mass production job engineered by machines, making the traditional churning process obsolete some 40 years ago.