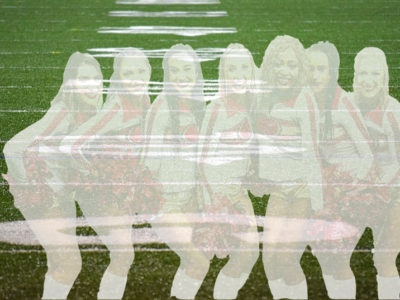 Some bone-chilling news has come out of Nebraska athletics after it has purportedly been revealed that the Husker Spirit Squad, UNL's resident cheer group, is actually comprised entirely of spirits who possess no corporeal form.
The events that led up to the shocking reveal started as innocently as one could imagine. Ricky Malaya, a junior nutrition science major at the University of Nebraska-Lincoln, sent out a tweet saying "lol wouldn't it be funny if the spirit squad was actually ghosts" at 3:36 p.m. on October 6th. The tweet quickly garnered 20 favorites and 6 retweets.
Malaya's tweet inspired Jonathan Sanders, a construction management sophomore who dabbles in ghost-hunting, to answer the question himself. What started as a humorous rhetorical question turned into something more sinister when Sanders slipped into a Spirit Squad practice with an EMF meter and headphones.
What Sanders found shook him to his core. The members of the beloved Husker Spirit Squad, known for their cheering and support at nearly all of Nebraska's major athletic events, sent Sanders's EMF meter off the charts as they walked past him after their practice.
"One of them heard me gasp and saw the EMF meter in my hands. I'll never forget the look in her — er, its — eyes," said Sanders. "I could have sworn that this… entity… became slightly translucent for just a second, and its eyes were full of fire and blackness." Sanders appeared visibly shaken while recalling the encounter.
Two days after the initial interview with Sanders, The DailyER attempted to contact him for more information, only to find his cell phone disconnected. Emails subsequently exchanged with Sanders revealed he had left the state "in order to protect" himself. "They're coming for me now. I don't sleep anymore. My life is now hell."
The Spirit Squad's next appearance will be at the football game vs. Purdue, Oct. 28 in Memorial Stadium, just in time to haunt 'Skers fans before Halloween.