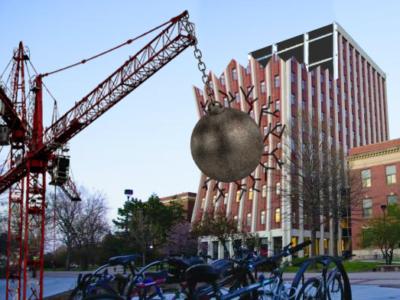 Uncertainty surrounding the University of Nebraska-Lincoln's impending budget cuts was somewhat put to rest early yesterday morning when the office of the chancellor announced one step in its plan to meet the state's budget problems.
In June, UNL plans to destroy the western half of Oldfather Hall, one of the most notable vertical landmarks on campus, acting on NU President Hank Bounds' comments that vertical budget cuts would be needed.
"When I heard 'vertical cuts,' I didn't know what we'd do," UNL Chancellor Ronnie Green said. "So, I looked up."
Green said the removal of half of the tallest academic building on campus will certainly shore up funds needed more urgently elsewhere in the NU system.
Plans to demolish half the tower include a barrage of wrecking balls, carefully aimed at only half of the building. A series of braces will be erected to support the weight of the rest of the building.
Officials expect the plan to cost nearly $210 million, but Green said the savings are in the long term.
An official statement from Green's office said that with fewer classrooms on campus, the university can hold fewer classes and can save money on labor costs.
"That French class you hate going to at 9:30 on Friday morning? Forget it, we aren't holding it anymore," Green said. "We pay teachers hourly, right?"
Critics of Green's plan aren't citing the infeasibility of demolishing half a tower. If anything, they have loftier goals.
"I can think of one building even taller and more expensive that we can scrap part of," said Jon Bates, Dean of the College of Arts and Sciences. "It's right next door."
A statement from the UNL Athletic Department, while avoiding taking a stance on Green's plan, reminded readers that it's the only department at UNL that pays for itself.
Students who frequent the building don't seem to wonder if it will save the university money, but are more worried about bodily harm.
"So like, when I get out of the elevator, will there be anything left up there," asked junior English major Mike Simms. "I think they'd better leave the whole hallway in the middle of the building in one piece."
Despite the confusion, Green is confident in the plan and has given it the green light.
"This is a plan that makes sense for our campus," Green said. "It's less heating and cooling costs. One less thing for the electric company to be on my case about."