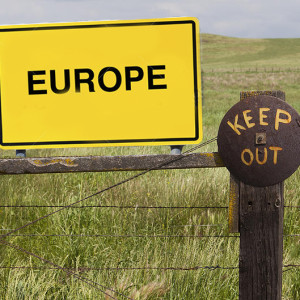 In an unprecedented response to the current Syrian refugee crisis, multiple DailyER foreign correspondents have confirmed that the European Union has closed all entrances to the continent of Europe, with no exceptions.
Faced with an influx of refugees fleeing unimaginable horrors in Syria, conservative government officials in EU member states are heralding the border closing as essential to preserving a traditional European way of life marked by premium cognac, vacations in the Swiss Alps and overt racism at soccer matches.
Some Europeans, however, are concerned about the economic impact of closing all entrances to the continent.
"At this time, we are uncertain how our economy will function without any way to export products," said German Chancellor Angela Merkel in a prepared statement. "I am deeply concerned that a legal barrier to exporting BMW and Mercedes-Benz vehicles could cause a severe downturn in global happiness levels."
The border closings also present severe challenges for the European tourism industry, as all flights into the EU have been grounded indefinitely. At press time, the only way for tourists who are especially motivated to see Notre Dame or a real-life castle to do any sightseeing is to first smuggle themselves into Europe in a small boat or large FedEx package. Travel experts worry that these methods could deter Americans, despite the marked improvement over the comfort of flying coach.
For travelers already in the EU, the new border restriction have created a serious problem.
"James and I intended to have a romantic week in Paris, but we've been stuck here for almost a month now," said American accountant Sharon McGinnis. "We're both so sick of crusty bread and high-quality wine. I'm just at my wit's end."
With no resolution to the border closures in sight, travel experts are suggesting that in the meantime stranded Americans simply learn to enjoy Yorkshire pudding, lederhosen and escargot.