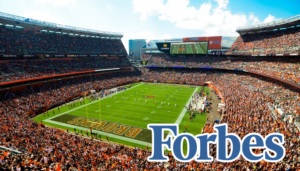 After a tumultuous off-season for the Cleveland Browns and a grisly start to their 2017 football season, players and coaching staff now have reason to rejoice.
In the annual release of worldwide sporting club valuations, Forbes announced that the Cleveland Browns franchise has been valued at a whopping $29.86, which is a sharp increase from 2016 when Forbes valued them at just $14.37 (107% increase).
"This is amazing news for the Cleveland Browns franchise," said team owner Jimmy Haslam. "Our players, staff and fans should all be excited about the future of this organization."
Haslam stated that there is room to grow in the future. The Forbes list has the Dallas Cowboys as the world's most valuable franchise, coming in at nearly $5 billion.
"This is only the beginning," said Haslam. "We have big plans for a future expansion at FirstEnergy Stadium." He went on to outline investing the additional value from this year, including purchasing one cup holder for a lucky Browns fan and two practice cones for the football team.
Current Browns starting quarterback DeShone Kizer said in an exclusive interview with The DailyER that this announcement has had a positive impact on his life. "This is the best news I've heard all year," he stated. "My salary went up from $2.18 a year to $2.56 a year. How cool is that?"
Although most people were positive about the announcement, some people were not. Browns super fan Duncan Bowman, who slipped into a coma in 2015, recently woke up and was told of his team's news and record. "Who cares about that kind of stuff?" said Bowman groggily. "All I care about is whether we can win or not. And it looks like two years of slumber didn't change a thing. Oh well, at least I've got the Cavs to root on now. I hope Kyrie Irving can lead the Cavs back to a championship!"
But for now, the Browns franchise will celebrate. Head coach Hue Jackson said that he is taking the team out to Chuck E. Cheese's to celebrate the big news.