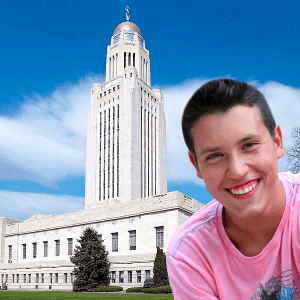 Earlier this week, UNL freshman Gus Ramirez made big moves to enter the same tier of comedians as Ralphie May, Jeff Dunham and Frank Caliendo with his hilarious riff on the capitol building.
"I'd been racking my brain for months trying to come up with the perfect joke," Ramirez said in an exclusive interview with DailyER correspondents.
"But then finally it came to me, 'capitol building, more like cock-itol building, am I right?'" Ramirez said, trying his hardest not to laugh at his own priceless take on the phallic government building.
"I've seen my share of up and coming comedians, but I think this Ramirez kid has what it takes to be one of the greats," said local talent scout Billy Schmidt between puffs on his comically large cigar. "I mean, did you hear his bit about the capitol building? Cock-itol building he says! Goddamn, is that funny or what?"
Others were not as amused with Ramirez's side splitting joke, like sophomore Amber Dean.
"I've only been going to school here for two years and I've already heard this joke a million times, and to be honest, Gus's version is probably the weakest of them all," Dean said. "I mean, 'Penis of the Prairie' is so much better in every way." Despite such criticism, Ramirez is reportedly in talks with Netflix executives to produce his first hour-long comedy special, "The Capitol Building Looks Like a Penis."