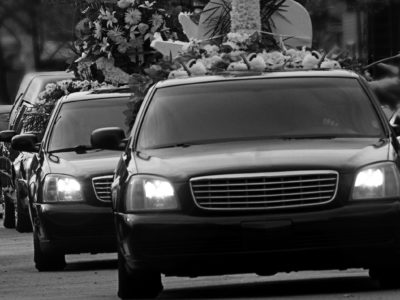 After the death of 83-year-old Martha Gregory last Thursday, the entire city of Lincoln, Nebraska, has been in a state of utter shock.
Martha was an alumnus of Lincoln East High School, the former president of the city's most popular knitting circle, "Stitched with Love," and a prominent member of First Plymouth Church's congregation. She passed away from a sudden, unexpected stroke Thursday evening after she finished her nightly ritual of watching Wheel of Fortune at 6:30 p.m. Central Time.
Her family and friends came together Sunday for her funeral to celebrate her full life and the positive impact she had on the community. It was rumored that attendees included prominent local Nebraska figures such as Larry the Cable Guy, Conor Oberst and Fred from YouTube, who delivered what witnesses are calling one of the most moving and heartfelt eulogies of the century.
After the funeral concluded, the guests gathered in their cars and turned on their hazard lights to make their way to Wyuka Cemetery and lay Martha down to her final rest. The procession took an indirect route, including a stretch on the interstate, in order to take Martha through the entirety of the city and state she loved one last time.
Reports confirm that the procession of well over 500 people went 25 mph down the interstate, taking up all lanes and backing up traffic all the way to the Waverly exit. Other motorists were heard honking their horns and yelling obscenities out their windows from the interstate shoulders where the procession passed them by.
Funeral attendee, and second cousin of Martha, Bertha Williams, was astonished by the turn out to Martha's celebration of life. "I knew Martha was popular, but to see the number of cars in her procession was beyond what I would have ever imagined," Williams said. "And to have Nebraska royalty like Larry the Cable Guy attend her funeral? Excuse my language, but my Lord. Martha will truly be missed by all."