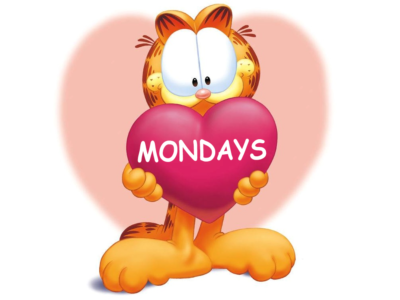 The fat and lazy orange cat who has captured the hearts of millions since 1978 is about to undergo a major change starting in September.
"Garfield" creator Jim Davis announced in a press conference that the titular feline will now love Mondays.
"If you really think about it, Mondays aren't that bad," said Davis. "It's the beginning of a new week full of opportunities."
Davis believes if his magnum opus can provide laughs, then it can provide inspiration. This is according to a fortune cookie he opened at dinner last week.
"Nothing makes sense in this world anymore," Davis said. "By doing this, I'm trying to have a more positive outlook on life. I also needed to make a dynamic change for a chance to intrigue readers."
But not everyone is accepting the alteration of one of the cartoon feline's cornerstone traits. Carl Stanley-Johnson, a "Garfield" fan since 1988, is opposed to the change.
"I don't like change," said Stanley-Johnson. "Too many things are changing and I need constant reassurance. Like my socks for example. I haven't changed them in three years."
Stanley-Johnson started an online petition in hopes of changing Davis' mind. As of Wednesday night, there are 14 signatures.
Other changes Davis plans to make for the upcoming "Garfield" comics include owner Jon replaced by a woman named Joanna and Garfield falling in love with Odie.