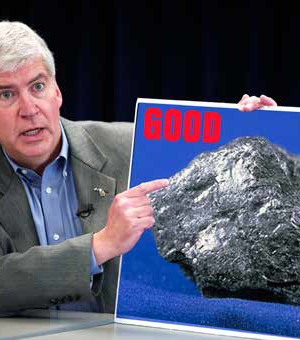 In response to backlash against the discovery of lead in Flint's water, the state of Michigan has decided to replace the lead with graphite.
Gov. Rick Snyder believes that this is "a suitable replacement."
"We've listened to what the people have to say," Snyder said. "It's obvious that putting lead in the water was a bad decision. We've figured that out. But it was just a matter of what to put in in its absence. And we believe that graphite is just what we need."
The state government's decision has been applauded by government members all across the state.
"Not only will we save money," Snyder said. "But we will be saving our people as well. We've conducted multiple tests and discovered that graphite is healthier to the human body than lead.
The reaction of the public was, although slightly edited, "mostly positive," according to a poll conducted by the state of Michigan.
"I…really like…the graphite," said Linda Barton, a resident of Flint.
The switch to graphite has also been applauded by former Michigan Department of Environmental Quality Director Dan Wyant.
"Graphite," Wyant said. "Huh. I shoulda thought of that."
Newly appointed director Keith Creagh was fired shortly after his hiring, as he had "too many ideas."
"He kept yapping on about how we should 'stop putting metal in the water' and stuff like that," Snyder said. "Suffice to say, he didn't last long."
Creagh was replaced by Dennis Quailman, who spoke up about his ideas during a public meeting.
"It was pure chaos," Snyder said. "Everybody was yelling. Then I saw this man quietly stand up, walk over to me and tell me his idea to save the water. I knew then that we had a new Environmental Quality Director."
Quailman, who reportedly "graduated from Harvard with a major in Water," is overseeing the program.
"I mean like, it worked for pencils right?" Quailman said. "It's the same basic concept."
The state of Michigan plans to put this plan into effect "very soon." Preparations are already being made for the switch.
"There'll be a period of time where there's gonna be both lead and graphite in the water," said Snyder. "I'd advise not to drink the water during that time."
Apparently the transition period will take place over the course of several months, with the lead and graphite turning the water into a thick, paste-like substance.
"I mean, as long as you don't drink it then, you're gonna be fine," Snyder assured.