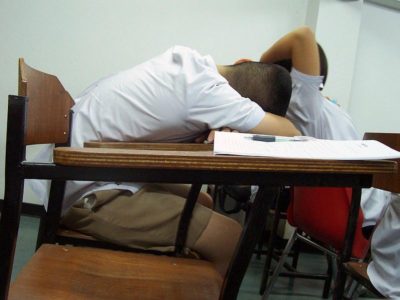 Students in Fred Green's history class at Irving Middle School grew sleepy Thursday afternoon while learning one of life's classic lessons: history is boring.
That afternoon, Green thought he'd try and make a subject as dry and lame as history seem "really important" by showing a film about a boring event he claimed "impacted the entire world forever."
This film, "No Surrender: World War II and Its Tragedies," is a grainy documentary that depicted the most gruesome effects that WWII had on people, inside and outside of combat, for the poor bored students.
Green soon realized the futility in his actions.
"I thought this doc would at the very least keep these kids awake in my class," said the fuddy-duddy of a teacher, trying stupidly hard to explain how the footage of bullet wounds from German machine guns could somehow ever be interesting and more important than what the varsity kids want to do after school.
The victims to history's dead-ass hand, luckily, were lulled into sleep easier than before, with many outright dropping cold after seeing segments like the sequence of still photos depicting scalded fire-bomb victims.
"God, I'm so sleepy," said Miranda Hill, slowly falling into a dream as the lullaby of artillery fire from the documentary made her eyes heavy. "I need to talk with my friends about what I've been feeling when this class is out."
As the movie continued to descend into the horrors of war, prisoners or frontline soldiers or something, we guess, whatever – it's dull history, after all – more normal people fell asleep.
"I think I've been out for a while there," said Jacob Freely, his eyes following on the film the waves of terrified teenagers crawling through barbed wire as though they were sheep jumping a fence. "Heh. That part's in a video game. Man, I'd love to play a WWII game again."
The boring day ended with a frustrated Green angrily ushering the students outside of his Chamber of Lameness before the film ended. Sources said that Green plans on, God forbid, showing another boring film about the Vietnam War.