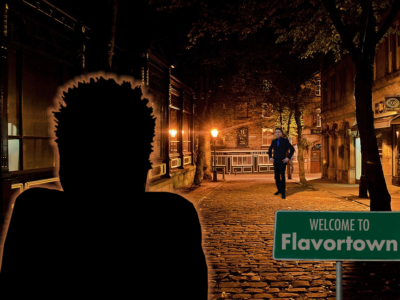 While filming an upcoming episode of Diners, Drive-Ins and Dives, host Guy Fieri took Lincoln, Nebraska, resident Kyle Tomlin's phone and wallet and left him in Flavortown, USA, sources reported Wednesday.
When reached by reporters, Tomlin recapped the events that led to his desertion in Flavortown.
"A few days ago, I responded to an advertisement that offered $30 to be an extra in the filming of an episode of 'Diners, Drive-Ins and Drives,'" described Tomlin. "So, I showed up and let Guy take me to Flavortown. I never could have guessed what would happen next."
Tomlin went on to describe his shock at the ugly core hidden beneath Guy Fieri's friendly exterior, saying that he has never felt as threatened as when Guy Fieri, upon arriving in Flavortown, took all of Tomlin's belongings and abandoned him.
"I was in the middle of eating a California Burger with a specialty Sriracha sauce and was well into Flavortown when I felt Guy grab my phone and wallet," recalled Tomlin, visibly shuddering. "Next thing I knew, Guy had left. I had no idea how to get out of Flavortown. It was horrible."
According to Tomlin, the stress of his stay in Flavortown was compounded due to the lack of supportive services available.
"After Guy abandoned me, I didn't know where to turn," said Tomlin. "I tried to search for somebody who could help me, but all I found was the Flavor Police Department. The only thing they did was sound their sirens whenever I took a bite of my delicious burger."
Tomlin said he was only able to escape after finishing his entire meal and that, when he returned, Guy Fieri was happily yelling at the camera as if nothing had happened.