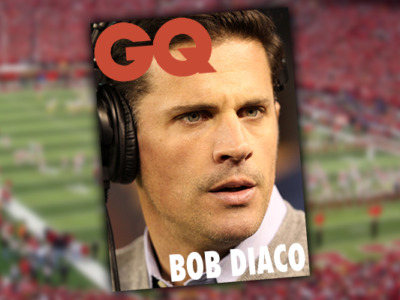 Three weeks into the college football season, the Huskers have been underwhelming to say the least. After giving up a combined 102 points to three teams – two of which are non-power five conference – tension is rising around Husker headquarters.
The defense has been the more mercurial of the bunch, including first-year defensive coordinator Bob Diaco, who in the period of three weeks has given up 42 points in a half, 36 to Arkansas State and has somehow isolated the media by rarely making himself available for questions after games.
Diaco's tenure has been nothing but complicated. The problem will go away if the defense is able to live up to the high standards of the Blackshirts, but for now, Diaco will have to rely on something that no one can take away from him: his rugged good looks.
In his final Monday press conference, former athletic director Shawn Eichorst expressed disappointment in Diaco's actions and defense, but conceded that there is nothing he can do because Diaco is just too handsome to be told what to do.
"I could tell him to shape up, to fix the defense, that these antics may have worked at UConn but not here, but goddammit, he's so beautiful I just can't do it," Eichorst said, mesmerized. "Maybe it's his strong jaw, light blue eyes or his chic hair, but anytime I want to yell at him I just get lost in his beauty."
Eichorst wasn't the only one who fell victim to Diaco's appearance, as members of the media nodded along to Eichorst's words, relating to the frustrating yet enthralling adventure that is working with the defensive coordinator.
Other members of the media explained their struggle of trying to put Diaco in his place, each giving up when they see Diaco in his athletic jacket.
"I wrote 1,000 words on how ignoring the media in Nebraska is ignoring the fans," said Steven M. Sipple of the Lincoln Journal Star. "But somehow I ended the piece by saying 'but he still cute tho.'"
"I've tried to get quotes from him multiple times, and while it is annoying, I assume he's in a hurry to get to his photo shoot for some fashion magazine."
The DailyER tried to get a quote from Diaco for this article, but likewise, we also got distracted by his looks and spent the rest of the time searching for photos of him on Google.