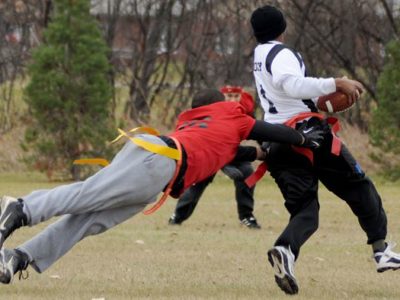 Andrew Peterson, a freshman global studies major at the University of Nebraska-Lincoln, hails from Shawnee, Kansas, where last year his alma mater's varsity football team won the Class 3A state championship under the leadership of star quarterback, Michael Alford. Alford also happens to be a freshman at UNL, but reports suggest that the high school star athlete's reputation has not aged well.
"I see Mike around campus a lot, and we've kind of become friends based on the fact that we're the only two Shawneeans at UNL," said Peterson. "He decided against trying out for the football team because he thought he was gonna be really busy with school, but I guess he found enough time to do flag football."
Alford is the quarterback for the Sandoz Sixty-Niners, an intramural flag football team comprised of the freshmen of Sandoz Residence Hall. Currently the team is 1-6 for the season, and many of Alford's teammates pin the blame on him.
"Mike just can't connect his passes," teammate and freshman communications major LaVon White said. "I play both receiver and running back, and even when he tries to hand off the ball he lets go before I have control so I end up fumbling it half the time."
Defender Dylan Rodriguez chimed in with a complaint as well. "Our defense is one of the best in the league right now, but if we can't get an RB or a receiver into the end zone, how are we gonna win? Mike doesn't want to give up the QB spot because he insists he'll get better."
In response, Alford blamed his struggles on his teammates' lack of experience. "Hey, it's not easy to play with guys who haven't been in those big-game, high-pressure situations," he said. "Not everyone here is a high school champion."
"Don't get me started on how often he brings up his high school championship, like dude, we get it, you were cool in high school," Rodriguez added.