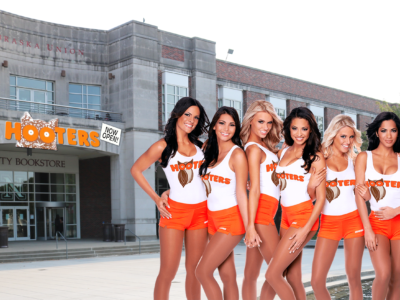 If there's one thing college students love, it's a huge pair of honkers, and UNL has finally taken notice.
In an attempt to capitalize on the craze, the Union Board has voted to bring a brand new sensual eating experience to the Nebraska Union… Hooters!
Hooters is a world-renowned restaurant, famous for their wings, beer and of course, the hooters themselves, the gigantic tatas on their waiting staff.
The restaurant isn't just bringing their knockers to the Union, either. They're also bringing a whole slew of student jobs.
Flyers posted around campus advertise that the Hooters hiring staff is looking for ladies with gigantic melons, jugs or bazongas to hire as waitresses. They're also looking for people of all genders who don't quite have the right equipment to be a waitress, to hire for the less glamorous behind the scenes jobs of cooking and cleaning the restaurant.
Brandon Campbell, a sophomore Global Studies major, is one of the many students excited to see all of the boobs and benefits a Hooters will bring to UNL.
"I usually just go online for my breast and boob needs, but it's nice to see them in person once in a while too," said Campbell, who, up to this point, has gone exclusively to local strip clubs whenever he's needed a quick in-person rack. Campbell says he's mainly looking forward to the convenience an on-campus boob bar will bring to his life.
To make room for the new restaurant and all of the traffic it's expected to bring, the entire Centennial Room will be remodeled into the familiar look of a Hooters restaurant we've all come to love and recognize over the years.
You can expect to see gazongas on display in the Union starting Fall 2018 when construction will be completed on the former Centennial Room.