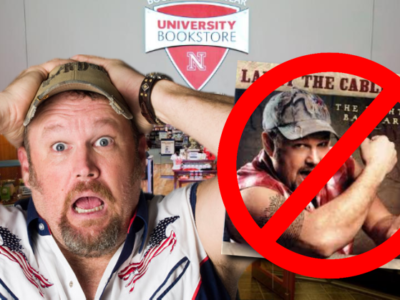 Controversy has been swirling in recent weeks about the political climate on the University of Nebraska-Lincoln's campus. Many students and faculty members have insisted that claims of hostility toward conservative viewpoints have been baseless and unsubstantiated, but now, UNL's critics have found their smoking gun.
As part of their ongoing investigation, the Nebraska Governor's office sent an undercover operative Wednesday to infiltrate the campus bookstore and head straight for the entertainment section, where the shocking truth was uncovered: not a single comedy album from conservative icon Larry the Cable Guy was available for purchase.
News of the discovery spread quickly across campus and the Internet, and both the bookstore manager and UNL Chancellor Ronnie Green were immediately taken into custody. While it wasn't clear what they were being charged with, a group of state senators quickly issued a statement on the incident.
"Larry the Cable Guy is not only a local hero and a comedic genius, he's also the main inspiration behind our entire conservative philosophy," wrote State Senators Tom Brewer, Steve Erdman and Steve Halloran, who had previously criticized UNL's English department. "How can conservative students feel safe on campus without instant access to Larry's classic poop jokes, anti-gay slurs and total disregard for PC culture?"
When it was pointed out that the comedian's discography could be easily downloaded from iTunes, the senators said they were unaware of the platform.
Speaking from his cell inside the county jail, Chancellor Green insisted that UNL would fight against this latest attack on its integrity.
"I refuse to allow our university to be used as a pawn for any politician's agenda or bad taste in stand-up comedy," Green stated, although he later indicated the bookstore manager would be suspended over the incident. "Can't these guys at least listen to Tim Allen or something?"
But Green's response did little to quell the growing anger. After a further investigation revealed the bookstore didn't have any copies of Larry the Cable Guy's bestselling 2006 memoir "Git-R-Done," the same senators wrote yet another letter, titled "Does the UNL bookstore even sell books anymore?"
An inquiry by The DailyER into the bookstore's records revealed that the store does, in fact, sell Larry the Cable Guy's albums, as well as his book, but that they were all temporarily out of stock due to being purchased by Senators Brewer, Erdman and Halloran.