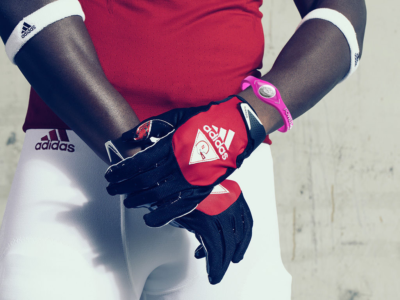 Saying it is unlikely that he will return to the field this season, junior wide receiver Bryan Enzelton told reporters that he was devastated by the NCAA's ruling to suspend him for his use of a performance-enhancing Power Balance™ bracelet during the Husker football game versus Ohio State.
"While I was fully aware of the benefits of the Power Balance™ bracelet, I did not know that it was on the NCAA's list of banned performance-enhancers," said Enzelton in a statement to the press. "I would like to apologize to my team and the Husker football fan base for letting them down."
Enzelton told reporters that his disappointment primarily stemmed from the fact he was blindsided by the NCAA's ruling.
"I didn't even know they were investigating my use of the Power Balance™ bracelet," said Enzelton. "When I received the call, it almost took me off my feet. Luckily, I was wearing my Power Balance™ bracelet, so that was not possible."
When reached for comment, head coach Mike Riley pointed to the double standard held by the NCAA toward other balance-improving devices.
"It's common knowledge that a required part of our uniforms is a Phiten™ necklace for each player. While this gives us a clear competitive advantage, we have heard nothing from the NCAA regarding our use of such objects," said Riley. "The NCAA's ruling against Enzelton displays, at best, a clear inconsistency in policy."
Enzelton brushed off the disparity between punishments for Phiten™ necklaces versus Power Balance™ bracelets, saying "The health benefits stemming from the high levels of titanium in Phiten™ necklaces are clear, and I don't equate that to my use of the Power Balance™ bracelet. I wore the Power Balance™ bracelet solely to improve my performance in the game, whereas I wear my Phiten™ necklace at all times to improve various aspects of my physical and spiritual health."
Enzelton, in what he called his way of acknowledging his reckless use of such a performance-enhancer, concluded the press conference by calling a reporter to the podium to demonstrate the unfair upper hand provided by the Power Balance™ bracelet.
The journalist, reportedly, pulled on Enzelton's arm when Enzelton was not wearing the Power Balance™ bracelet, and those in the room watched him topple to the floor. Upon putting on the Power Balance™ bracelet and subjecting himself to the same powerful tug by the reporter, sources reported that Enzelton firmly stood his ground.