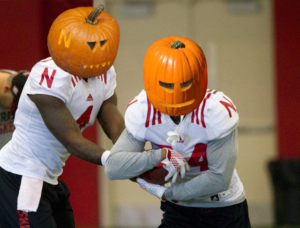 In a move described as "getting in the Halloween spirit," Nebraska head coach Mike Riley has announced that all football helmets will be replaced with pumpkins carved into helmets for the Oct. 29 game against the Wisconsin Badgers.
"This is a big game, and I need to get the boys fired up," Coach Riley said. "I figured that since we were so close to Halloween, we could all carve our helmets as a team."
Many team members voiced their support for the idea, stating that the idea was "fantastic," or "a great way to build team spirit."
"Oh yeah, it's gonna be great," said quarterback Tommy Armstrong Jr. "They're gonna look great, feel great, and we're gonna play great."
Although many have expressed concern about the safety of the players, Armstrong is less than worried.
"Have you ever seen a pumpkin," he said. "They are huge! Plenty of meat to take the blows."
University physiology professor Dr. Adam Hallman is not quite as enthused as the players.
"This is literally the worst idea that I have ever heard," Hallman said. "I really don't know what Mike is thinking with this one."
Hallman went on to describe the kind of trauma that the players can expect with their gourd helmets. He said that the pumpkins would split open after the first tackle that the player was involved in, and concussions would be almost guaranteed.
Riley discounted Hallman's warnings.
"Those boys are tough, and they have a lot of fight in them," Riley said. "So, we're just going to take it one play at a time. Besides, some good old fashioned team spirit never hurt anyone!"