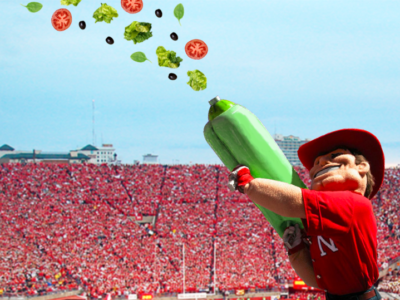 For decades, the Nebraska Cornhuskers' hot dog launcher has thrilled fans by sending processed meat spiraling through the air and into their mouths. But, the football team's more health-conscious fans have been left out of the action — until now.
Prior to the Huskers' home game against Purdue, Nebraska athletic director Shawn Eichorst and University of Nebraska-Lincoln food scientists unveiled a new, state-of-the-art salad launcher, officially dubbed the Green Machine.
According to its technical specifications, the Green Machine can discharge a mix of lettuce, tomatoes and other ingredients from its central barrel at speeds exceeding 30 mph, while surrounding jets spray powerful streams of ranch, Italian, honey mustard and thousand island dressings.
"For years, people have told us that they love Husker games, but they wish the food soaring through the air was more suitable to their diets," Eichorst explained. "Now, fans can enjoy all the excitement of aerial food without putting on any pounds."
Fans and health experts alike praised the new launcher as a step in the right direction.
"Ever since my doctor told me I need to eat healthier, I've been avoiding Husker games because I just can't resist those airborne sausages," said Ronald Daugherty, a financial analyst and Husker fan from Lincoln. "Thanks to the Green Machine, I can cheer on my favorite team and still get the flying food I crave."
"The Green Machine is a smart way to improve the health of all Nebraskans," said UNL nutrition professor Dr. Kathy Fern. "National dietary guidelines recommend people eat at least two cups of vegetables per day, and literally blasting vegetables into their faces will make meeting that goal easier than ever."
The Green Machine's debut at Saturday's game was met with much anticipation, and UNL chancellor Ronnie Green was invited to fire the ceremonial first shot. As Green pulled the trigger, the cheering crowd was showered with a deluge of leafy greens and creamy dressings.
After the game, The DailyER found a triumphant Eichorst in his office, snacking on leftover lettuce and examining blueprints for a "tofu blaster."
"We finally did it," he said. "Nebraska football is back."