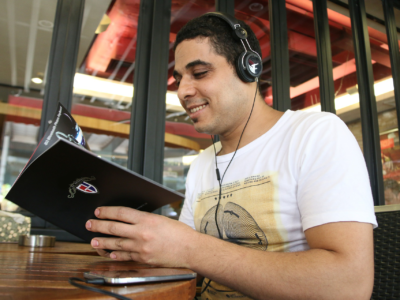 If the approaching winter has you bummed out, don't worry; the story of UNL sophomore Tony Martin is the perfect thing to warm your heart.
"I showed up to college bright eyed and bushy tailed," Martin said, with a glint in his eye. "I never knew that I would end up reading all of those books."
Martin, a 19-year-old English major, was an incredibly gifted student in high school, said by most to be a high achiever and someone with huge potential. Some even considered him a genius.
"Tony never was like all of the other boys, hooting and hollering at gym time," said his 9th-grade physical education teacher, Andrew Pressman. "He was more likely to stand around with his nose in a book."
Martin attributes much of his academic success to those formative years.
"You know, back when I was a kid, I was never into boisterous antics," Martin said. "I was much happier getting lost in my studies than getting lost in the woods."
Martin fondly recalled his days spent sitting at his desk in his room, working algebra problems by lamplight. He even goes so far as to describe them as "moments of pure, unadulterated youthful joy."
"I know it seems a little strange, but it's the truth," Martin said. "I guess I was just destined to be an intellectual."
Martin described many events as monumental in his educational growth, but none more important than a fateful day in his British Literature class in the spring semester of 2016.
"I remember sitting in class on Wednesday morning, and it just kinda clicked," Martin said. "I was looking at my book, and I had a sudden realization that all of the markings on the inside had a pattern, and actually meant something."
Martin's professor was deeply moved.
"It's always special to see someone read for the first time, and it finally happened in my class," said graduate student Sarah Kelly, who teaches Martin's section. "Tony is a very bright kid, and now he can finally read. It's icing on the cake."