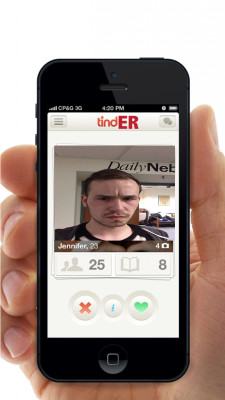 It's spring in Nebraska, the time of year to let your love life bloom along with the tulips. The DailyER is proud to introduce a revolutionary new app, The DailyER's Tinder Plus.
The app features a whole suite of tools to help you find like-minded singles close to you and tell them a terrible pick-up line, without the fear of getting slapped.
The DailyER's Tinder Plus is especially appealing for singles who are intimidated by the massive pool of attractive people on other dating apps, as it limits users one can contact to a carefully curated list of DailyER staff members.
Early reports detail users' stories of romantic dates with DailyER writers to hot Lincoln destinations such as Super Saver, a Union Bank ATM, and your weird friend's front porch.
"I was skeptical about using The DailyER's Tinder Plus at first, but now I can't stop using it," Jeremy Bergman, a sophomore finance major, said. "As in I legitimately can't get this app to close. The people who wrote this app really messed up and it's impossible to close it."
All DailyER staff members were still on very hot dates at press time, due to the app's highly successful launch. A DailyER staffer previously described the app's inability to close as a wildly popular feature.
Calls for an update to the app to fix known bugs have gone unheeded by the app's coder, a DailyER writer's 14-year-old brother, who described his schedule as too busy to fix the app due to a combination of "'Call of Duty' and my mom being dumb."