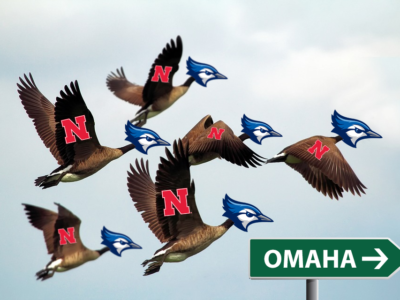 With another Huskers football season in the books, many local sports fans are clamoring for something to celebrate.
While Nebraska's men's basketball team is giving another valiant effort, their play doesn't indicate an invitation to March Madness.
Across I-80, however, are the Creighton Bluejays, a high-class basketball program and perennial invites to the tourney. Currently ranked 23rd in the RPI index, the Bluejays are gearing for another crack at the national championship, and so are the JaySkers all across the Lincoln area, as they begin their migration from UNL to Creighton to root for the men's basketball team.
The migration usually begins around late February or early March as college football and the NFL seasons end and college basketball gains more attention. UNL alumni start wearing more Creighton shirts or hats even though they never went to Creighton. Some people even start talking about defensive schemes or free-throw percentages like they've watched every game of this season.
Larry Bennett, a UNL graduate of advertising, has rooted for the Bluejays all his life, and takes offense to the term "JaySker."
"I watched every Creighton game, I go to as many games as I can. I live in Omaha, so I think I have the right to root for whoever I want," said the casual flip flopper. "Being a Husker doesn't mean I have to support everything about them, I like good basketball so when the Huskers get good I'll root for them."
Other JaySkers are not as dedicated as Bennett, whose interest comes and goes with what time of the year it is.
"I lived in that area when I little, maybe 2 or 3. You could say I'm kind of a die-hard," junior accounting major Eric Grover explained even though he couldn't tell you where Creighton is located in Omaha. "Blue runs through my blood, I could tell you all the players on the roster if you gave me a computer."
One JaySker, however, is proud to be known as such.
"Yeah, I like the Huskers and Creighton, it's not a big deal. One's good at football, the other is at basketball," senior Kelly Rieghton said. "I like the tournament and I like rooting for someone. Creighton's always competing. It's just a game, people need to get over themselves."