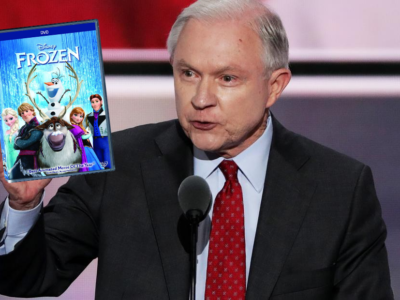 Alabama senator and future Attorney General Jeff Sessions was not the most welcomed choice for the job by pundits and citizens alike. As a lifelong politician, Sessions has created a political platform based on anti-immigration and anti-LGBT stances, like banning books from schools that reflect Islamic values.
Sessions is also a fierce denier of climate change, having voted against any measure that could reverse environmental damage.
In an effort to support his beliefs with evidence, Sessions has cited the Disney film "Frozen" as a reason why global warming is not real.
Sessions, during a press conference last week, went into detail relating the film's positive message of sisterhood and embracing idiosyncrasies as a reminder that climate change was made up by the Democrats and the Chinese.
"Elsa hides her powers from the world for 18 years, locked away in a castle. It's not until she runs away and embracing her gift that she is able to build an ice castle strong enough to debunk global warming," Sessions said. "If climate change was an actual thing, I don't think we would live in a world where people can shoot ice out of their hands."
As reporters tried to explain to Sessions that "Frozen" is a Disney animated film and not real, Sessions continued his hypothesis based around his love for Olaf, the talking snowman.
"That snowman guy–Olaf–really funny character. Just cracks me up every time," Sessions said while giggling to himself. "If global warming was real, do you think some visionary mind could come up with a character that funny and original? I think not."
When one reporter asked–even if "Frozen" was real–if the effects of global warming would be a factor because the film was set in a previous time period, Session had a quick response.
"'Frozen' is a timeless classic–don't you dare come into my press conference and insult one of the true American classics," Sessions shouted. "If you dare bad mouth 'Frozen' again, I will throw you into the sun, which is not currently heating up this planet as we speak."